Annual Conference in Austria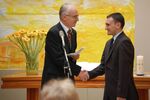 The Austria Provisional Annual Conference met from May 21 to 24, 2009, in Graz / Austria. The theme was «Come and See!» and the program included inspiring discussions on God's invitation to us to come and see as well as on sharing this invitation with others who do not yet know Christ.

The report of Superintendent Lothar Pöll offered helpful thoughts on Bishop Robert Schnase's book on the Five Practices of Fruitful Congregations (which is also available in German), but he also referred to current political and social challenges in Austria (e.g. hostility – in the name of Christianity! – against Muslim people).

Since there are not enough subscribers of the Austrian magazine «Methodist», its future is unsure and will be subject of serious discussions during the next year.

The diaconal center Spattstrasse in Linz / Austria with many branches all over the country informed the Conference on structural improvements, on the expansion of its ministries as well as on developments in regard to its leadership.

The Conference heard a report about the Methodist mission in Albania supervised by the Austrian pastor Supt. Wilfried Nausner and his wife Jean. Since there is not yet a Conference structure in Albania, the first Albanian pastor, Rigels Kasmollari, became a probationary member of the Austria Provisional Annual Conference and was commissioned in the closing worship service. Rev. Stefan Schröckenfuchs, pastor in Vienna, was ordained elder during the same worship service.

The number of professing members and friends is still slightly growing while the worship attendance slightly decreased last year.