The UMC in Hungary
Almost 120 years ago, as part of an Evangelical growth in the country, Methodist missionaries established the first Methodist churches in Hungary, firstly among German-speaking and later among Hungarian-speaking people. These churches grew fast but suffered heavy setbacks for political reasons until the end of the Second World War. Yet God always created something new.

Today, focal points of church activities include family, children and youth ministries (summer camp, work in schools, radio and television ministries), as well as various social services, e.g. for the elderly, the Roma, drug dependent persons and prisoners.

The church is also strongly engaged in ecumenical work. The local churches are growing slowly but continuously, and they are trying with great commitment to raise the level of their financial independence. However, there are many obstacles to achieving this aim. Popular camps and educational activities as well as urgent building projects at various locations could and can only be carried out with help from outside of the country.
Statistical Information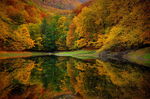 Population: 9.8 millions
Area: 93,030 km2
Capital: Budapest
UM congregations: 29
Professing members: 478
Active Clergy: 13

(April 2018)