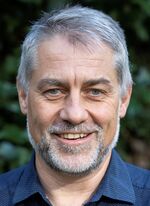 Bishop Dr. Stefan Zürcher

Dr. Stefan Zürcher (* 1967 in Switzerland) is Bishop of The United Methodist Church (UMC) in Central and Southern Europe - an area that includes the following countries: Albania, Algeria, Belgium, France, North Macedonia, Austria, Poland, Romania, Switzerland, Serbia, Czech Republic, Tunisia and Hungary.
After his studies – first at the ETH Zurich at the Department of Agriculture, then at Reutlingen School of Theology (Germany) – Stefan Zürcher was ordained elder of the UMC in 2003. He served as pastor of Rüti-Wald-Hombrechtikon UMC (Switzerland) from 2000 to 2015, before being appointed superintendent of the district of Northwestern Switzerland in 2015.
In addition, at the level of the Annual Conference Switzerland-France-North Africa, he was/is active, among other things, as a lecturer in Methodist theology in lay preacher training, as head of the crisis team of the UMC in Switzerland, and as a member of the working group "Prevention". At the level of the Central Conference of Central and Southern Europe he headed the working group "Theology and Ordained Ministries" for nine years.
Outside the UMC, he is active as an army chaplain for the Swiss army.
Stefan Zürcher completed his doctorate at the Faculty of Theology of the University of Zurich from 2005-2015/2019.
In 2022, in Basel (Switzerland), he was elected and consecrated Bishop of the UMC. He took office on February 1, 2023.
He is the author of the publication "The Formative Dimension of Prayer."
Dr. Stefan Zürcher, who lives in Greifensee (Switzerland), is married to Valérie Zürcher, and together they have four adult children.