Annual Conference in Switzerland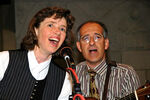 The Switzerland-France Annual Conference met from June 4 to 7, 2009, in Dübendorf and Zurich / Switzerland. The theme of this year's gathering was «Passion – Compassion», and the program included various invitations to share in God's passion for this world. Over 300 delegates and guests from Switzerland, France and Algeria were encouraged to reach out to their neighbors and to provide assistance and hope.

Another thematic focus was put on the various realities and (spiritual and other) needs of the «generation 60+». About half a day was set apart for a lecture and discussions on this issue. In spite of financial challenges many local churches are faced with, the Conference members approved to establish a new department «60+» with a part-time employment of a specialist who will assist the local churches in responding to the needs of elderly people.

During the Conference a new «prayer for the connection» was introduced: As of June 2009 all local churches in Algeria, France and Switzerland will receive a monthly liturgical prayer focusing on the ministries and challenges of the UMC in a country in Africa, Asia, Eastern Central Europe or Latin America. The Conference members received candles and were requested to bring them to their local churches and to light them when joining in this prayer.

Other business included decisions to dissolve the Commission on Drug Issues and to limit the expenses for central administration and Conference-wide ministries. The Conference heard extensive reports on the situation in France and North Africa. And for the first time a couple (Ruth and Markus Voegelin) was elected Conference lay leaders.