Empowered for community in turbulent times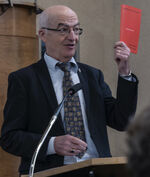 Under the title "Empowered by the Spirit of Christ", Bishop Patrick Streiff presented today his last Episcopal Address as active United Methodist bishop of the Central Conference of Central and Southern Europe. He encouraged the members and friends to commit themselves to the renewing work of God's Spirit.

The United Methodist Church in Bishop Patrick Streiff's episcopal area is facing profound changes. In Basel (Switzerland), delegates from the 13 countries are discussing these days what a common path into the future might look like. And they will elect a successor for Bishop Patrick Streiff. Today, for the last time in his term of office as active United Methodist bishop, he addressed the delegates to the extraordinary session of the Central Conference – and beyond them all United Methodists belonging to this area – with an Episcopal Address.

The challenge of individualization
Under the title "Empowered by the Spirit of Christ," Bishop Streiff addressed the concrete processes of change in the UMC of his episcopal area only indirectly. Rather, he sought to show how the discussions and tensions are an expression of and promoted by social developments. These include, for example, the advancing individualization. This gives rise to "problems arising for the cohesion of society and for dealing with experiences of loss and suffering".

Ego-centered social media
For the bishop, these problematic tendencies become openly apparent in social media, which "are also susceptible in a hitherto unimagined way to promoting a completely ego-centered need to communicate without having to listen to a counterpart." The observable shift toward identity politics should also be understood against this background, he said.

Social and ecclesial areas of conflict
As further aspects of the developments taking place in society, some of which are linked or can be linked to these observations, the bishop referred, for example, to the Corona pandemic and the distortions it has caused. Or to the within the UMC "hotly discussed issue of human sexuality". The job description of pastors has also become more diverse and demanding, he said. "At the same time, a parish ministry is no longer associated with a valued status in society," Bishop Streiff said.

Building sustainable community
Drawing on biblical and Wesleyan traditions, Bishop Streiff sought to describe in this context how the Spirit of Christ empowers United Methodists to deal with the challenges ahead and to live out church credibly. He urged a "wisdom of the heart" that shapes the way one lives. "The focus of this wisdom is not on intellectual knowledge or Christian doctrine, but on building a sustainable community."

Community of different individuals
This, he said, takes place first in and upon the Church itself. "On one hand, Christ inserts us into a community with other people whom we did not choose ourselves." But this community is not a "homogenous mass" in which "our individuality and different personalities" are cancelled out. "Even the Spirit of Christ brings about differences in each person - always with the goal of building up community in the body of Christ."

A "covenant community"
Church is not a "contractual community" but a "covenant community." Contracts bring benefits, he said; covenants bring change. "Contracts lead to the cooperation of 'I's' that remain independent. Covenants create a 'we.'" However, "various threats to the covenant community have surfaced in connection with the dispute over same-sex relationships."

Unity and freedom
Looking to the future of the UMC in his episcopal area, he said he hopes and prays "that we will be able to describe and then follow a common path into the future with as much unity as possible". But, he said, it is also important to find helpful arrangements "so that those who so choose may part ways in mutual respect."

Renewal of life
Following up on his previous bishop's messages, Patrick Streiff again emphasized, "For Methodists, love for God and fellow human beings is at the core, because God first loved us. This also affects the understanding of Christianity." "Doctrinal differences" would then lose weight. What is more decisive is "whether there is an inner renewal in the heart of a person, which then also manifests itself in the way he or she leads his or her life."

Grateful look back
Despite many burdens, Bishop Streiff said he looks back gratefully on his time as bishop. "I myself have learned many things in my active ministry as a bishop that I would never have dreamed of and that have allowed me to mature." Not least in the "additional loops" of his active ministry that became necessary because of the Corona pandemic, he said, he "once again experienced in an encouraging way many visible signs of an often invisible network of prayer and support."

Decisions and elections
Delegates in Basel this afternoon will deliberate on the issues at hand regarding the future of the United Methodist Church in Central and Southern Europe. The first ballot for the election to succeed Bishop Patrick Streiff is scheduled for the evening. Several rounds of voting are expected until a successor is chosen.

Author: Sigmar Friedrich, Zurich
Photo: Bishop Patrick Streiff speaks to the delegates in Basel


The Episcopal Address including the sermon of the opening worship service can be downloaded from here and can, in printed version, ordered in the Office of Bishop Patrick Streiff in Zurich: urs.schweizer@umc-cse.org, Phone +41-44-299 30 60.