Sometimes a heartbeat is enough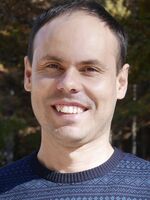 Many young people in North Macedonia see no future in their country and leave their home because they hope for better prospects elsewhere. Despite this – or perhaps precisely because of it – Dejan Vasilev is committed to helping young people and young adults with a wide heart.

It was a Sunday in 2018. In the morning, the members and friends of Skopje UMC and numerous guests had celebrated a church service. Then everyone had stayed for lunch and a time of fellowship. Some individuals shared their hearts and told how God had lovingly guided and provided for them over decades – even when they faced enormous problems from the governments at the respective times. This sharing of sad and hopeful moments was a powerful experience for the whole community. An experience that became an encouragement especially for the young people in view of challenging times. At least, that was the experience of local pastor Dejan Vasilev, then 32 years old. "If the Lord has led and provided for people in the past, He will continue to do so. Now and in all the future." For Vasilev, this is a foundation on which to build in the face of uncertainty and doubt.

Dejan Vasilev originally came from Monospitovo, a village in the southeastern part of North Macedonia. After his first preaching experiences in youth services, his involvement in the church became more and more extensive. Together with others, he organized, for example, work activities in the local church as well as visits and offers of help for people in need – especially for people with a disability. Already at that time, being on a joint journey with children and young people was a matter close to his heart. He gratefully experienced how people were encouraged – and this strengthened his conviction that it is possible to change part of the world. Especially when people work together, adding their respective gifts and talents.

When Vasilev was sent to Skopje by the church in 2015, it gave him the opportunity to gain many new experiences in the local United Methodist congregation in North Macedonia's capital. He acquired new knowledge, developed new skills and got to know new people with their very specific ways of living and acting. This awakened in him the desire to pray together with others also for a renewal of the life of the church. Perhaps it was no coincidence that as a first consequence of the prayers, people's relationships with each other deepened.

Then Vasilev took responsibility for the nationwide work with young people. He organized seminars, training sessions and camps – always with the aim of showing participants sources of help, encouragement and hope for their journey of life and faith. "The lives of many changed in a new direction," he recalled. As a result, there was a renewal of youth groups, and many began to get involved in their communities. "When there were work opportunities in the church, it was encouraging to see more people coming to help. In our church services, we were able to tap into the potential of musically gifted people and improve communal singing during services," Vasilev said gratefully.

By 2019, a generation of hopeful young people had grown up on a nationwide level, taking responsibility for the children's and youth groups in the churches. Young people "who love their church, even if they don't go to church regularly," as Vasilev put it.

Jennifer Moore, a U.S. missionary in North Macedonia, describes Vasilev's attitude toward young people based on an experience at the 2021 summer camp: "We had creative and sports workshops - and Dejan Vasilev's workshop on how to read the Bible. To be honest: I was skeptical whether there would be any interest in the latter. But one young man came up to me and said: 'I'm not sure whether I should go to the Bible workshop or to the sports. But if I go to sports, I have to go back to my room and change my shoes.' Then he meekly confessed to me: 'I've never read the Bible.' I was sorry that he thought he might be judged for never having opened a Bible. So I told him to change his shoes, then he could try the Bible workshop, and if he didn't like it, he could always switch to sports. Well, he went to Dejan's workshop and stayed there. At dinner, the young man couldn't stop talking about how wonderful it had been to sit with Dejan and have all his questions answered in an appreciative and so encouraging and helpful way."

Dejan Vasilev dreams of a hopeful future for young people. This shapes his engagement in the present. Often it is unspectacular. But to say it with words of Klaus Seibold: "Life does not always need the 'big orchestra'. Sometimes a heartbeat is enough."

Source: Dejan Vasilev / Nena Arsova / Jennifer Moore / Urs Schweizer, Assistant to the Bishop, Zurich (Switzerland).

Dejan Vasilev lives in Murtino with his wife Reveka (29) and their son. He works as a local pastor in Murtino and Kolešino.