Floods in South-Eastern Europe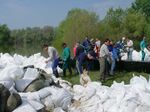 The news from the floods in South-Eastern Europe may have disappeared from the big TV and newspaper headlines — however the situation for those living in this area is still very difficult. For example in Szolnok (Hungary) and surrounding villages about 4500 people have been evacuated so far, according to the Methodist pastor Robert Hecker. Each person was allowed to carry max. 20 kgs of personal things when being taken under shelter — the rest had to be left behind. At various places (Csépa, Tiszasas) the completely softened dykes began to slip. To stabilize them and to transport the necessary construction material was therefore only possible by using special boats or helicopters. 600 soldiers and about 3500 civil volunteers have been working right round the clock — in the whole Tisa-Area of Hungary (i.e. from Szolnok to Szeged) there were about 25 000 soldiers and volunteers trying to protect the population from the floods. According to Superintendent Istvan Csernak, some of the volunteers working to stabilize the dykes in Szeged (Hungary) were members of the local United Methodist congregation.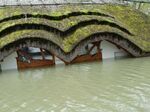 In cooperation with Methodist friends and churches in the East Germany Annual Conference the United Methodist congregation in Szolnok organized a relief transport. On May 8, 2006, about 40 tons of clothes, shoes, mattresses, bed linen, household goods, toys etc. will be sent from Germany to the area of Szolnok where they will be distributed to the people in need. This distribution work will be done through the channels of the regional emergency service.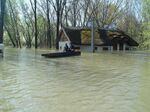 To help repairing and rebuilding the damaged or completely destroyed houses the United Methodist congregation in Szolnok is collecting money. One special project of this local church is to assist renovating a center for elderly people in Szelevény (a small village with 1200 inhabitants, where 950 people have been evacuated). The local government had saved about 20'000 EUR to create a place where elderly people can meet and talk during the day, where they get a warm meal and where medical and nursing care is provided if necessary. The money saved for this project had unfortunately to be used to protect the village from the floods. The United Methodist congregation in Szolnok would like to help finding funds to make this community project possible anyhow.


The people in Jabuka and Kisac (Serbia-Montenegro) are facing a different but not less difficult situation. Their efforts to avoid that the rivers Danube and Tisa to burst their banks were successful. But according to Marija Virag in Novi Sad — she is the Secretary of the United Methodist Church in Serbia-Montenegro — there have been heavy floods anyhow because of the risen ground-water level. In addition to many cellars which have been filled with water, much agricultural land was flooded. For many people living close to the poverty level (and this level is considerably lower than the one for example in Western Europe!), this is a disastrous development as they are living from selling their products or as they need some agricultural self-sufficiency in order to secure their survival. The people in this area are therefore sad, depressed, and many of them are afraid of what the next weeks and months will bring. This was also confirmed by the Methodist pastor Lila Balovski in Jabuka.

In Kisac, in the garden of the United Methodist center, a large pond arised. The inhabitants of the village can now hear a frog chorus every evening. Many trenches are filled with water, and the children, in their free time, try to catch fishes at these unusual places. However, this almost idyllic impression must not deceive about the reality that in the upcoming weeks and months walls and houses built of loam will cave in because they were too much damaged by the water. And many agricultural products (vegetables, grain etc.) which have been produced in the past will only delayed, in a reduced quantity or even not at all be harvested this year as a result of the floods. Even though the church buildings of the United Methodist congregations were not directly affected by the water — the consequences of the flooded fields and gardens will be a very heavy burden for men and women of our Church as well.

In Bulgaria the implications of the floods were — at least at the places close to the Danube where the United Methodist congregations are located — not so dramatic, compared for example with the ones last summer. This said Superintendent Bedros Altunian

The Methodist Brothers and Sisters in Romania did not yet respond to our inquiries regarding the actual situation at the places where they are living.

Once again people which do not have much to live on are facing a very difficult situation. We will therefore primarily send assistance to our Brothers and Sisters in Hungary and Serbia-Montenegro in order to ease their suffering, to help them doing steps to secure their survival now and in the future — and to reach out to the whole community where people are in need. Thank you very much for making this possible by your donation.

Urs Schweizer
Assistant to Bishop Heinrich Bolleter